CMA GBA Invitational 7-A-Side Soccer Tournament
The Chinese Manufacturers' Association of Hong Kong (CMA) successfully organised its first-ever "Goodway Presents: The CMA Greater Bay Area Invitational 7-a-side Soccer Tournament" (The Tournament) at Hong Kong Football Club in Happy Valley on 3 and 4 August. The two-day Tournament drew teams from 9+2 cities in the Greater Bay Area, aiming to strengthen the integration of the area.
The Tournament is an expanded edition of "The CMA Invitational Sports Tournament", an annual event organised by the CMA since 2011 with the aim to provide members of local industry with networking opportunities through various sports games. It is also one of the association's major celebratory events in celebration of its 85th birthday and the 70th anniversary of the founding of the People's Republic of China.
Goodway Electrical Enterprise Ltd and China Vanke Co., Ltd are the title sponsor and diamond sponsor of the Tournament respectively. With assistance from the Guangdong Federation of Industry and Commerce and Associação Comercial de Macau, the CMA successfully invited teams comprising a total of more than 150 players who are representing the 10 Greater Bay Area cities, including Guangzhou, Shenzhen, Zhuhai, Foshan, Huizhou, Dongguan, Zhongshan, Jiangmen, Zhaoqing, and Macao. They gathered together with the two Hong Kong teams, namely the CMA Youth Committee and the Hong Kong Federation of Restaurants & Related Trades (the Champion of last year's CMA Invitational Sports Tournament), and played friendly matches against each other.​
Results of "The CMA Greater Bay Area Invitational 7-a-side Soccer Tournament"
Cup Competition
Winner:Dongguan
1st Runner Up:Zhongshan
2nd Runner Up:Hong Kong - Hong Kong Federation of Restaurants & Related Trades
Plate Competition
Winner:Jiangmen
1st Runner Up:Zhaoqing
2nd Runner Up:Shenzhen
Goodway: Golden Shoot Award
Jiangmen - 紀聖琺
最具體育精神獎
Hong Kong - CMA Youth Committee, Macao, Zhuhai
最具活力獎
Guangzhou
優秀表現獎
Guangzhou, Foshan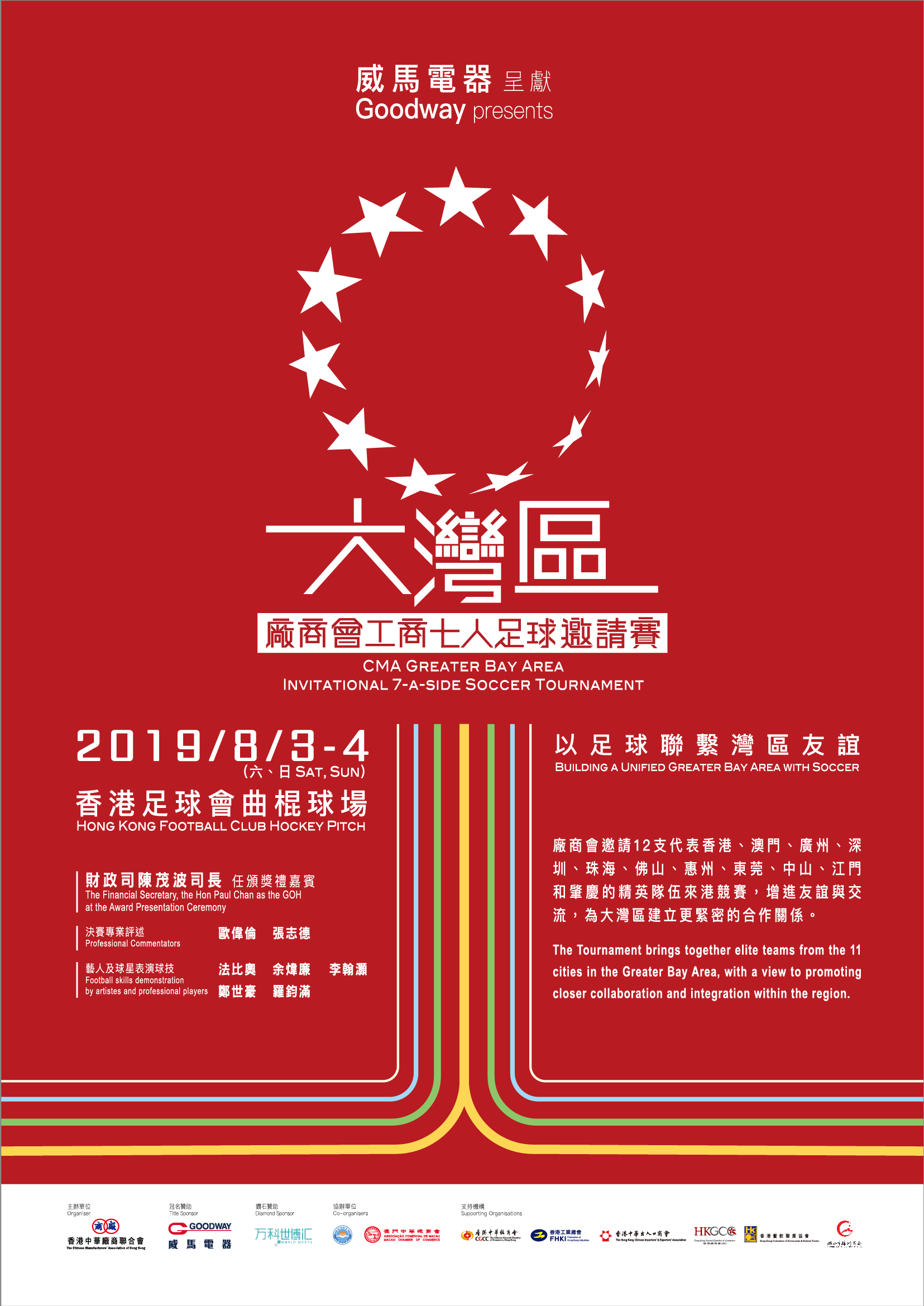 Event Videos and Photos
3rd August - Preliminaries
https://flic.kr/s/aHsmG3yRG1
3rd August - Welcoming Dinner
https://flic.kr/s/aHsmG3FRZw
4th August - Semi Finales, Finales and Award Ceremony
https://flic.kr/s/aHsmG3GGSr
Video
https://www.youtube.com/watch?v=nRUyhy7nIgQ