CMA Hosts the 9th Hong Kong Food Carnival
Featuring new Japanese and Korean Food Market
The Chinese Manufacturers' Association of Hong Kong (CMA) is delighted to invite visitors to the 9th Hong Kong Food Carnival (HKFC), which will take place at the Kwai Chung Sports Ground from 29 October to 6 November. A highlight of this year's event is a new thematic zone—the Japanese and Korean Food Market—which will provide visitors with a taste of East Asian cuisine and culture. Whether visitors are looking for food to spice up their diets, bargains to fill their shopping carts, amazing surprises or a fun family outing, the HKFC promises to be the ideal shopping and leisure hotspot for people of all ages.
At today's press conference, CMA President Dr Allen Shi said, "HKFC is one of the city's most comprehensive food-themed exhibitions. It will feature an appealing array of stalls hosted by established brands and exciting start-ups and a cornucopia of activities, including Japanese and Korean cultural performances, healthy cooking demonstration, DIY workshops and lucky draws. As in the past, it will also be an excellent business platform for SMEs and can stimulate domestic consumption and boost the economy."
The HKFC has always been a celebration of our multicultural local cuisine. This year's event will comprise more than 290 outdoor booths and feature four thematic zones, including the Health Preserving Zone, the Leisure Food Zone, the Catering Equipment Zone, and the new Japanese and Korean Food Market. "With international travel still subject to some restrictions, the new exhibition zone and related cultural activities will offer an alternative to fans of these two destinations to cure their wanderlust. Kimchi, salted seafood, pickled vegetables, ginseng, gejang, marinated meat, snacks, frozen foods, noodles and many more specialities can all be found at one spot," said President Shi.
During various promotional periods, several hundred items will be discounted up to 90-plus% to spoil shopping lovers. Complementing the product offerings and great deals will be a curated line-up of workshops, lucky draws, games and musical and dance performances. "On 29 October, we will be organising a Halloween party. You can expect loads of Halloween-themed games, activities, giveaways and more. Kids and their parents are invited to come dressed up in their best scary costumes to create a spooky mood!" said CMA Exhibition Services Limited Chairman cum CMA Vice President Ivan Sze.
Best of all, visitors will be eligible to enter the lucky draws, named "Tasty Fun! Lucky Draw – Lucky Bags for U!, Keep on Giving Lucky Draw and Grand Lucky Draw", to win awesome prizes including round-trip air tickets to Taipei, dried seafood gift bags, cookware sets, dining vouchers and health and wellness gift sets. To encourage the use of electronic payments, visitors who spend at least $250 in a maximum of three transactions using electronic payments are entitled to one lucky draw entry; visitors who spend at least $500 are eligible for two entries; and those who spend at least $750 are eligible for the maximum of three entries.
With the government's support, the Carnival obtains a venue rental concession. The CMA has therefore reduced the Carnival fees by offering a booth rental discount of 25% to all exhibitors and reducing the admission ticket price to HK$4 in the hope of riding out the difficult times with businesses and citizens. During 17 and 28 October, visitors have the chance to win two free admission tickets by taking the quiz at the Carnival official website and Facebook page.
Highlights of the carnival line-up include the following:
More than 290 booths in four exhibition zones: the Health Preserving Zone, the Leisure Food Zone, the Catering Equipment Zone and the Japanese and Korean Food Market
Three periods of promotional offers on selected items with discounts up to 90% off and prices as low as $1: 29–31 October, 1–3 November and 4–6 November
Japan–Korea Gift Bag Lucky Draw on 30 October and 5 November, Daily Lucky Draw every day and Grand Lucky Draw on 6 November
Stage entertainment, including a Halloween-themed party, African drum performance, and dance and musical performances
DIY workshops on how to make a post-it note holder, a macramé phone strap or use 3D-printing pen to create Halloween-themed handicrafts
Details of the carnival:
Date
29 October – 6 November, 2022
Opening hours
10:30 am – 7:30 pm
(No admission to the Carnival 30 minutes before closing time everyday and after 6:30pm on last day)
Venue
Kwai Chung Sports Ground, Hong Kong (MTR Kwai Fong Station Exit D)
Admission fee
Kwai Chung Sports Ground, Hong Kong (MTR Kwai Fong Station Exit D)
Website
www.foodhk.com.hk
Encls.
-
Guest List
-
Sponsor List of Press Conference (Chinese only)
-
Fair Facts
-
Lucky Draws (Chinese only)
-
Opening Crazy Sale(Chinese only)
-
Flash Sale(Chinese only)
-
Closing Special Offer (Chinese only)
-
Stage programmes and highlights (Chinese only)
-
Floor Plan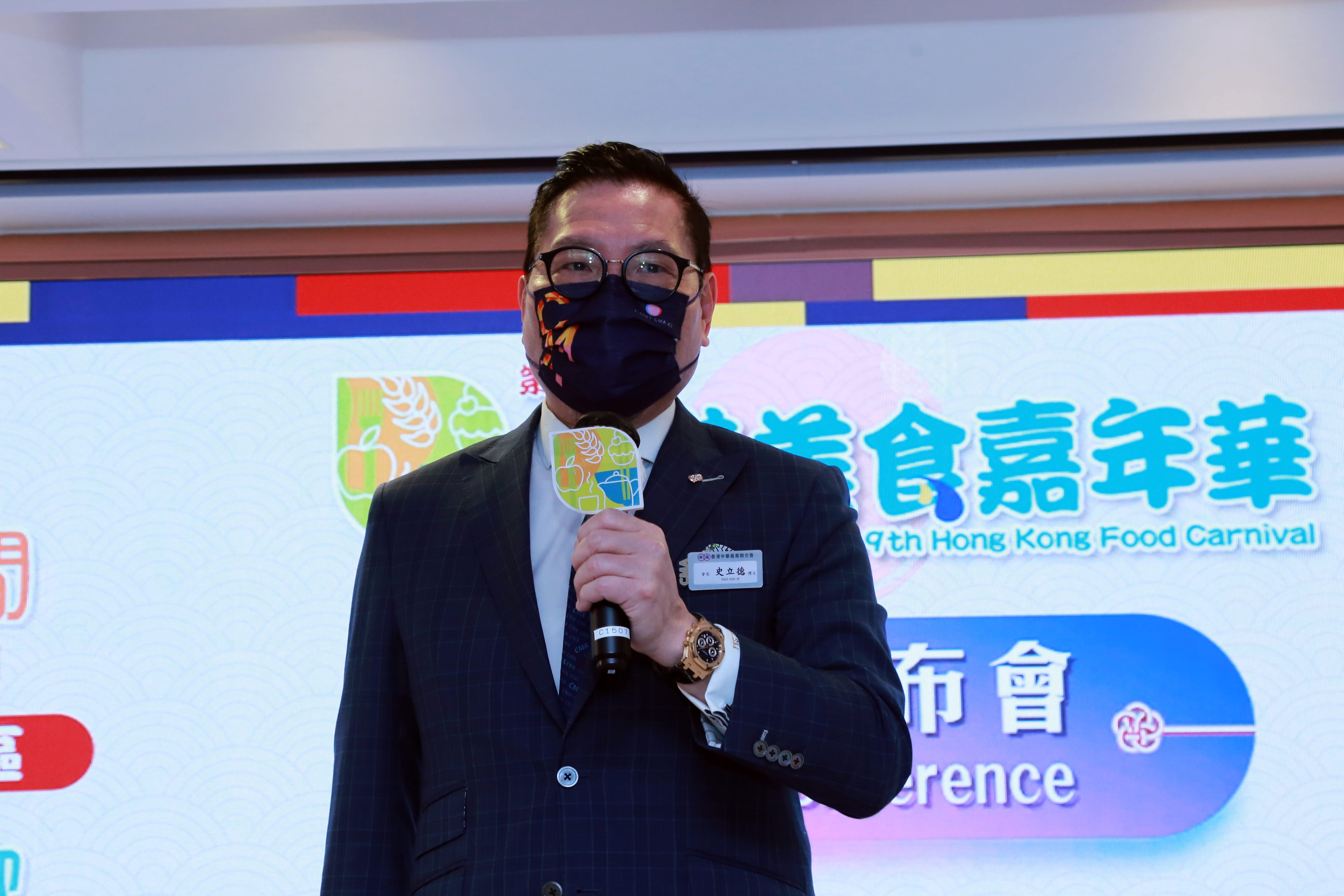 Dr Allen Shi, President of CMA, believes that the 9th Hong Kong Food Carnival can serve as an excellent business platform for SMEs and boost local consumption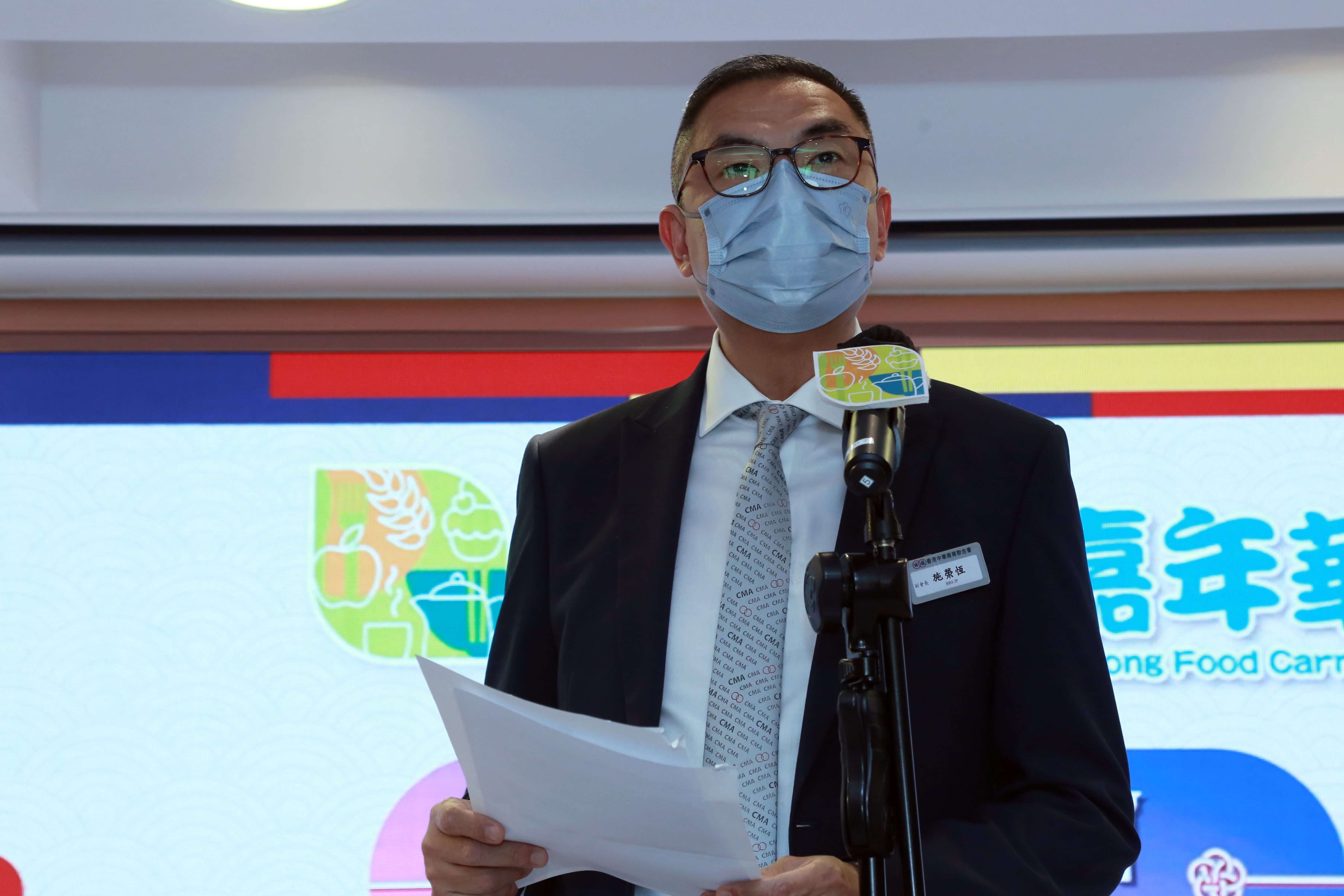 Mr Ivan Sze, CMA Exhibition Services Limited Chairman cum CMA Vice President, introduced the highlights of the 9th Hong Kong Food Carnival
CMA office-bearers officiated the kick-off ceremony of the 9th Hong Kong Food Carnival (from the left, Mr Ng Ching Wun, Executive Committee Member; Mr Calvin Chan and Mr Dennis Ng, Vice Presidents; Mr Ivan Sze, CMA Exhibition Services Limited Chairman cum CMA Vice President; Dr Allen Shi, President; Dr Wingco Lo, Executive Vice President; Mr Jackson Leung, Vice President; Dr Ralph Chow, Chief Executive Officer, and Ms Stella Lee, Executive Committee Member)