The 9th Hong Kong Food Carnival Opens Today
Organised by the Chinese Manufacturers' Association of Hong Kong (CMA), the 9th Hong Kong Food Carnival starts today (29 October) and runs until 6 November 2022, at the Kwai Chung Sports Ground. Featuring 290-plus product booths and an exciting line-up of entertainment activities, this iconic culinary event in town brings a nine-day explosion of cuisine, fun, and revelry, as well as prizes with a total value of $1.3 million. The one-day special theme party will be held this afternoon to provide fans of Halloween with lots of frightening fun and cheer, marking a splendid start to the carnival. It will be the best place for friends and families to spend quality time together!
The opening ceremony was officiated by Dr Bernard Chan, Under Secretary for Commerce and Economic Development; Mr Eddie Cheung, Director of Broadcasting, Radio Television Hong Kong; Dr Allen Shi, President, CMA; Mr Ivan Sze, Vice President, CMA cum Chairman, CMA Exhibition Services Limited; The Hon Jimmy Ng, Legislative Council Representative, CMA; Dr Wingco Lo, Executive Vice President, CMA; Mr Huggin Tang, District Officer (Kwai Tsing), Home Affairs Department; Ms Lo Yuen Ting, Chairman, Kwai Tsing District Council; Mr Simon Wong, President, Hong Kong Federation of Restaurants & Related Trades cum Vice President, CMA; Mr Kenneth Chan, Permanent Honourable President, The Hong Kong Food Council; Mr Kenlay Wong, Chairman, Nam Pak Hong Association, as well as other CMA office-bearers, including Mr Dennis Ng, Dr Ma Kai Yum, Mr Jackson Leung, Mr Calvin Chan and Mr Robert Lok, Vice Presidents, CMA, and Dr Ralph Chow, Chief Executive Officer, CMA.
Dr Allen Shi said, "We are delighted to stage the Hong Kong Food Carnival once again to bring a unique and amazing experience to food lovers and shopaholics. This year, the highlight is the "Japanese and Korean Food Market" and its various theme-based cultural and leisure activities and decorations, getting visitors to indulge in the vibe and spirit of these two favourite travel destinations of the Hong Kong people. As in previous years, the carnival will be a can't-miss event for all of you for a reason – here, you will find everything you desire under one roof."
The Carnival is bustling with excitement. Bargain hunters will be excited because hundreds of products will be sold at great prices, as low as a 90% or even greater discount, during the three promotional periods. The carnival is also a party for all ages, with a packed list of things to do including a Halloween parade, DIY workshops, a healthy cooking demonstration and talk, lucky draws, games, and live dance and musical performances of different styles. Souvenirs will also be given to the first 1,000 visitors every day.
With the government's support, the Carnival obtains a venue rental concession. The CMA has therefore reduced the Carnival fees by offering a booth rental discount of 25% to all exhibitors and reducing the admission ticket price to $4 in the hope of riding out the difficult times with businesses and citizens.
Highlights of the carnival line-up include the following:
More than 290 booths in four exhibition zones: the Health Preserving Zone, the Leisure Food Zone, the Catering Equipment Zone and the Japanese and Korean Food Market
Three periods of promotional offers on selected items with discounts up to 90% off and prices as low as $1: 29–31 October, 1–3 November and 4–6 November
"Tasty Fun! Lucky Draw – Lucky Bags for U!, Keep on Giving Lucky Draw and Grand Lucky Draw" with awesome prizes including Japan–Korea lucky bags, round-trip air tickets to Taipei, dried seafood gift bags, cookware sets, Chiu Chou cuisine dining vouchers, health and wellness gift sets, and many more.
E-Consumption Lucky Draw: Visitors who spend at least $250 in a maximum of three transactions using electronic payments are entitled to one lucky draw entry; visitors who spend at least $500 are eligible for two entries; and those who spend at least $750 are eligible for the maximum of three entries
Stage entertainment, including a Halloween-themed party, African drum performance, and dance and musical performances
DIY workshops on how to make a post-it note holder, a macramé phone strap or use 3D-printing pen to create Halloween-themed handicrafts
Details of the carnival:
Date
29 October – 6 November, 2022
Opening hours
10:30 am – 7:30 pm
(No admission to the Carnival 30 minutes before closing time everyday and after 6:30pm on last day)
Venue
Kwai Chung Sports Ground, Hong Kong (MTR Kwai Fong Station Exit D)
Admission fee
$4 (Visitors can pay via Octopus at the venue)
(Senior citizens aged 65 or above, persons with disabilities and children less than one metre tall will be admitted free)
Website
www.foodhk.com.hk
Encls.
-
Guest List
-
Fair Facts
-
Lucky Draws (Chinese only)
-
Opening Crazy Sale(Chinese only)
-
Flash Sale(Chinese only)
-
Closing Special Offer (Chinese only)
-
Stage programmes and Highlights (Chinese only)
-
Floor Plan of the 9th Hong Kong Food Carnival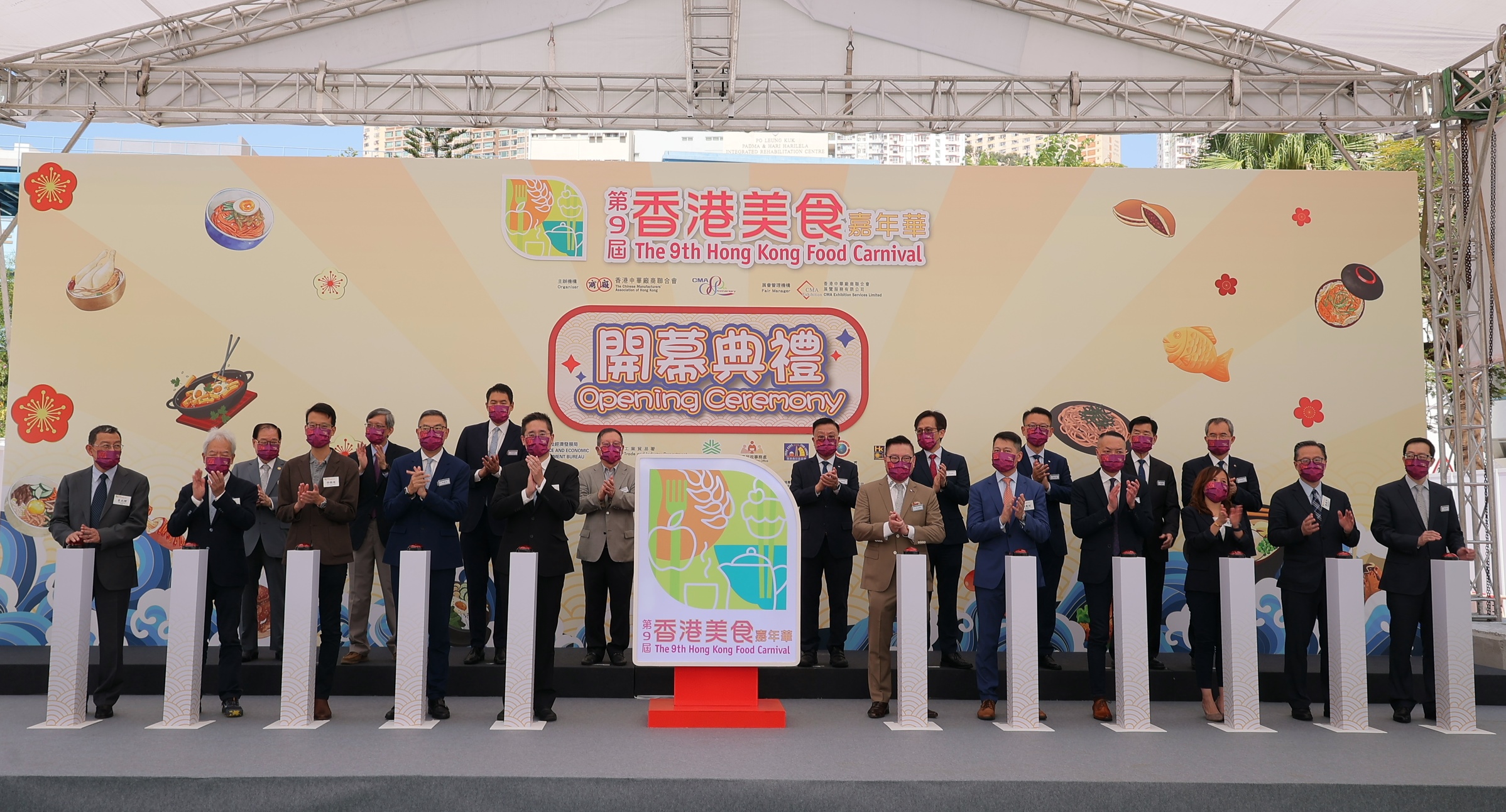 Dr Bernard Chan Pak Li, Under Secretary for Commerce and Economic Development (front row, 5th from the left); Mr Eddie Cheung, Director of Broadcasting, Radio Television Hong Kong (front row, 5th from the right); Mr Huggin Tang, District officer (Kwai Tsing), Home Affairs Department (front row, 3rd from the left); Dr Allen Shi, President, CMA (front row, 6th from the right); The Hon Jimmy Ng, Legislative Council Representative, CMA (front row, 4th from the right), and Mr Ivan Sze, Vice President, CMA cum Chairman, CMA Exhibition Services Limited (front row, 4th from the left) officiated at the opening ceremony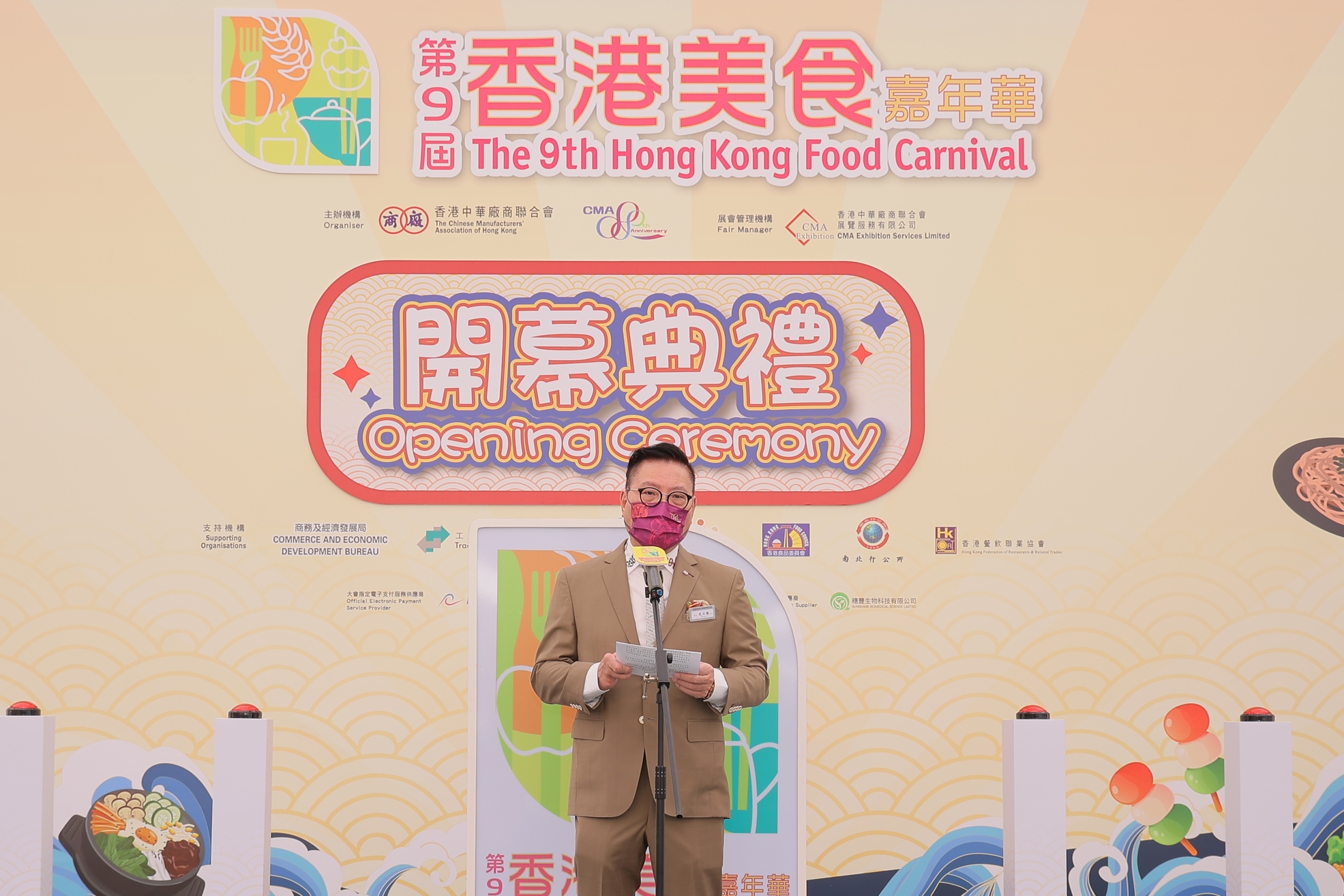 Dr Allen Shi, President of CMA, delivered a speech at the opening ceremony
The officiating guests joined the guided tour of the booths after the opening ceremony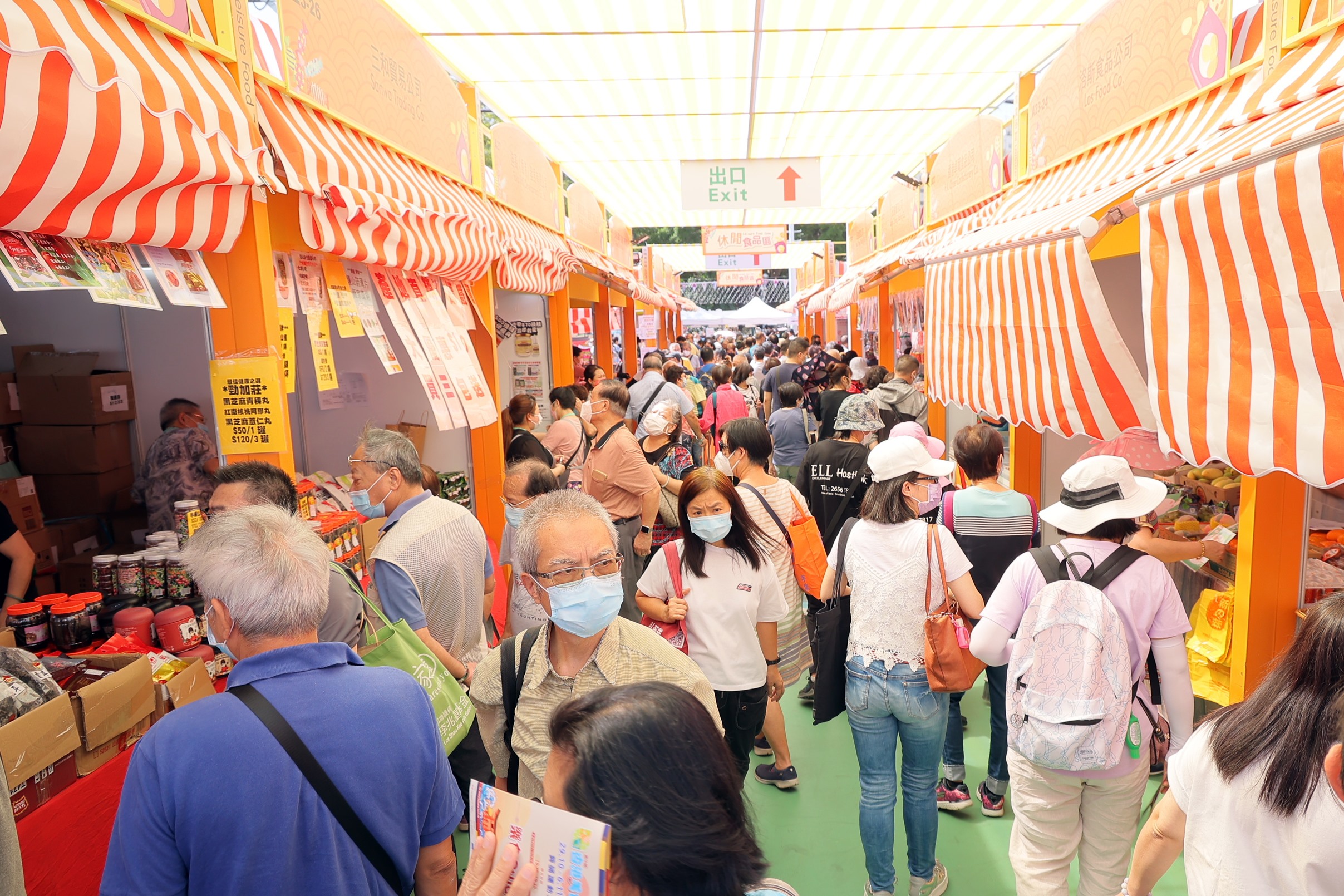 The 9th Hong Kong Food Carnival attracted a large amount of visitors