​The 56th Hong Kong Brands and Products Expo Opens
Today (9 December), the city's attention was drawn to Victoria Park, Causeway Bay! The 56th Hong Kong Brands and Products Expo (HKBPE), organised by the Chinese Manufacturers' Association of Hong Kong (CMA), opened and will run for 24 days until 1 January 2023.
The opening ceremony was performed by Mr John Lee, Chief Executive of the HKSAR; Mr Yin Zonghua, Deputy Director of the Liaison Office of the Central People's Government in the HKSAR; Mr Chan Kwok Ki, Chief Secretary for Administration; Mr Tang Ping Keung, Secretary for Security; Mr Siu Chak Yee, Commissioner of Police; Mr Woo Ying Ming, Commissioner of Independent Commission Against Corruption; Professor Nelson Lam, Director of Audit; Ms Louise Ho, Commissioner of Customs and Excise; Mr Xu Xiaolin, Deputy Director-General of Coordination Department, Liaison Office of the Central People's Government in the HKSAR; Mr Wong Kwok Hing, Commissioner of Correctional Services; Mr Andy Yeung, Director of Fire Services, and the office bearers of CMA, including Dr Allen Shi, President of the CMA and Mr Ivan Sze, Vice President of the CMA cum Chairman of CMA Exhibition Services Limited.
Dr Allen Shi, President of the CMA, said, "We are delighted to stage this iconic event in Hong Kong once again. We hope that the wonderful vibes and positive energy created by Hong Kong's biggest outdoor expo can bring a sense of normality to the city and prove to the world that it is back on the up. With even more bargains, prizes, fun-filled activities and immersive experiences than last year, we also look forward to the expo giving a boost to Hong Kong's economic recovery."
This year's HKBPE features more than 860 booths distributed across ten thematic areas and offers an incredibly rich choice of products, ranging from food and beverages, grocery items, dried seafood, beauty and healthcare products, clothing and footwear, household products, to kitchenware and handicrafts.
The expo is sure to please visitors by giving them a jump start on their festive season shopping. Several sales promotions will be held during the exhibition period. Aside from a wide variety of products, with up to 90% off (available both online HKBPE and at the physical expo), visitors can snap up a wide variety of limited-supply $1 items.
To thank the people of Hong Kong for supporting the CMA over the past 88 years, the expo will give out more than HK$3 million in total prizes, including those offered by the reward campaign of "Eight Super Rewards for the CMA 88th Anniversary". Visitors who enter the lucky draws while visiting the expo or using the HKBPE app, or fulfil any one of the relevant conditions, for instance, have "88" in their identity card number; be born on 8 August; be 88 years old; or be among the first 20,000 people who download the HKBPE app, post photos of the HKBPE on social media, or spend over $88 on the online HKBPE, will get a chance to win these prizes.
Visitors will also find a wide variety of things to do at the expo. For example, they can relive their childhood fantasies as they enjoy the Hong Kong Toy Era thematic zone, the highlight of this year's event, which showcases both new and old toys and tells the story of the evolution of Hong Kong's toy industry. This zone also features interactive game play areas and 10 toy booths.
Other entertainment options include live shows organised by Radio Television Hong Kong and Commercial Radio, Chinese opera, singing and dancing performances, martial arts and musical performances, and also the talent shows performed by the contestants of Miss Exhibition Pageant.
As the HKBPE has benefited from the government's rental concession measures, the CMA has reduced the exhibitors' participation fees and the admission ticket price. The admission fee is HK$8; however, senior citizens aged 65 or above, children under one metre in height and people with disabilities can enjoy free admission. Visitors can buy admission tickets from the HKBPE app or through Octopus at the entrance to get into the expo. The expo is open every day from 11:00 am to 8:00 pm.
The CMA office-bearers who attended the grand opening also included Mr Herbert Liang, Dr Jose Say, Mr Paul Yin, Dr Eddy Li and Dr Dennis Ng, Permanent Honorary Presidents of CMA; Mr the Hon Jimmy Ng, Legislative Council Representative of CMA; Dr Wingco Lo, Executive Vice President of CMA; Mr Simon Wong, Dr Edward Chan, Mr Dennis Ng Kwok On, Dr Ma Kai Yum, Mr Calvin Chan and Mr Robert Lok, Vice Presidents of CMA, and Mr Ralph Chow, CEO of CMA.
Details of the 56th Hong Kong Brands and Products Expo
Date
9 December 2022 - 1 January 2023 (Total 24 days)
Online HKBPE will be held during 1 December 2022 - 9 January 2023 (Total 40 days)
Venue
Victoria Park, Causeway Bay
Opening hours
11:00am - 8:00pm every day
(no entry 30 minutes before closing time and on the last day, no entry 1 hour before closing)
Admission ticket price
HK$8 (Free admission for children below 1 metre in height, senior citizens aged 65 or above, and persons with disabilities)
More details
Visit www.hkbpe.com.hk, Online HKBPE (online.hkbpe.com.hk), or download HKBPE app
For more exhibition details, please visit:
https://drive.google.com/drive/mobile/folders/1J-EyXf33yR2dLXDDeSvE43cUzBajdoBq?usp=share_link
Dr Allen Shi, President of CMA, said that the success in hosting the HKBPE can show the world that Hong Kong is back on the road to normality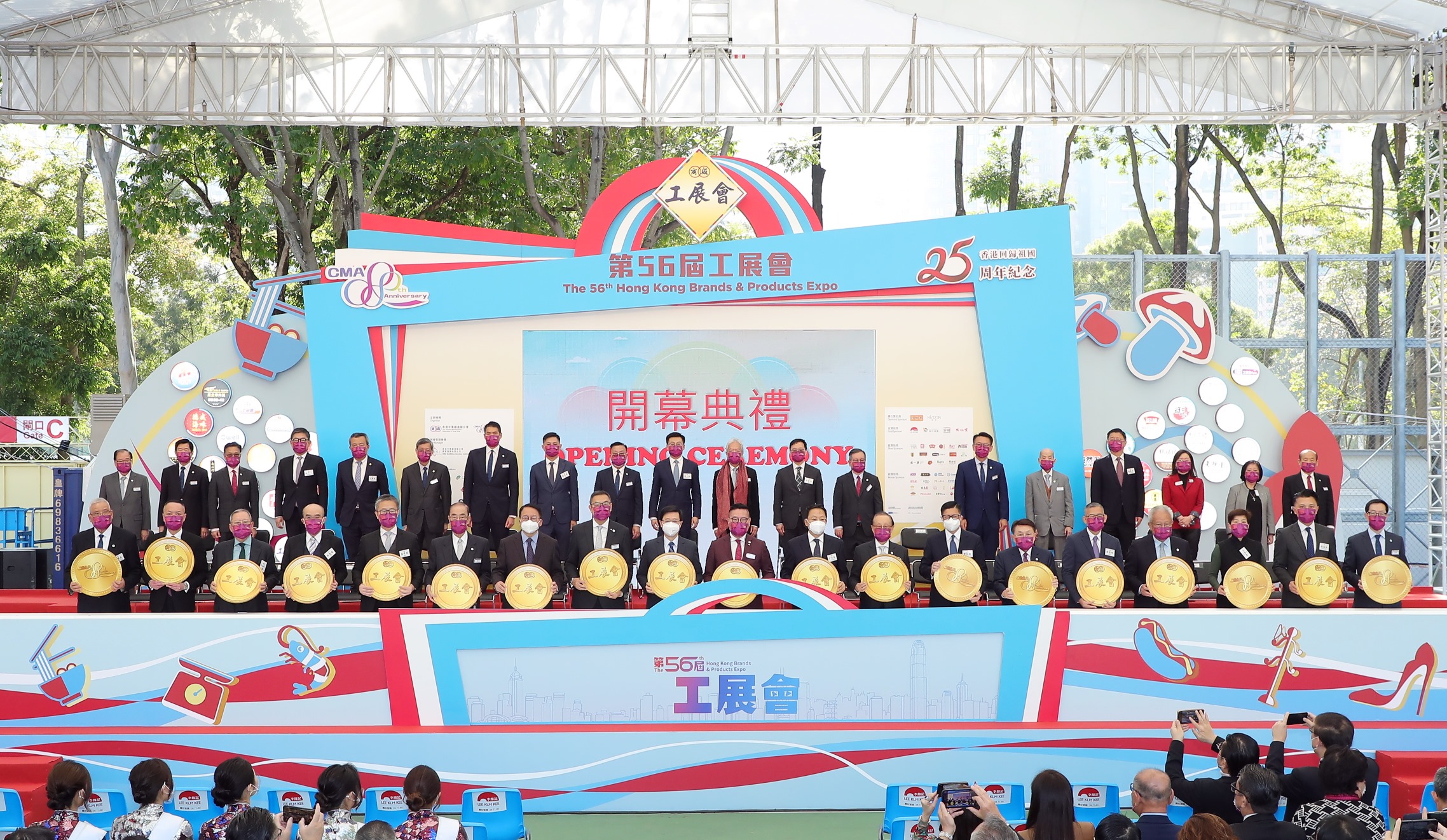 Mr John Lee, Chief Executive of the HKSAR (front row, 9th from the left); Mr Yin Zonghua, Deputy Director of the Liaison Office of the Central People's Government in the HKSAR (front row, 9th from the right); Mr Chan Kwok Ki, Chief Secretary for Administration (front row, 7th from the left); Dr Allen Shi, President of the CMA (front row, 10th from the left) and Mr Ivan Sze, Vice President of the CMA cum Chairman of CMA Exhibition Services Limited (front row, 8th from the left) officiated at the 56th HKBPE opening ceremony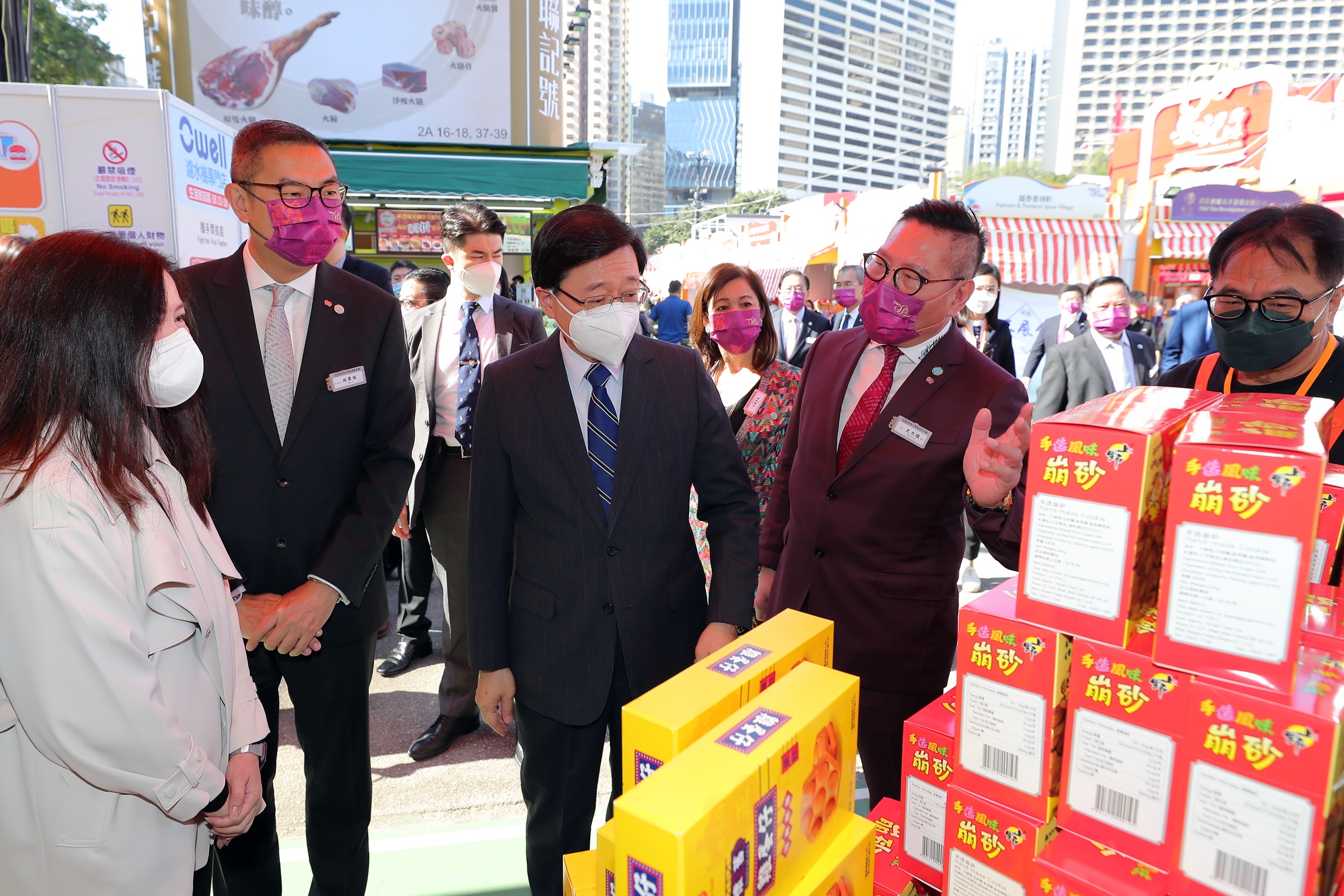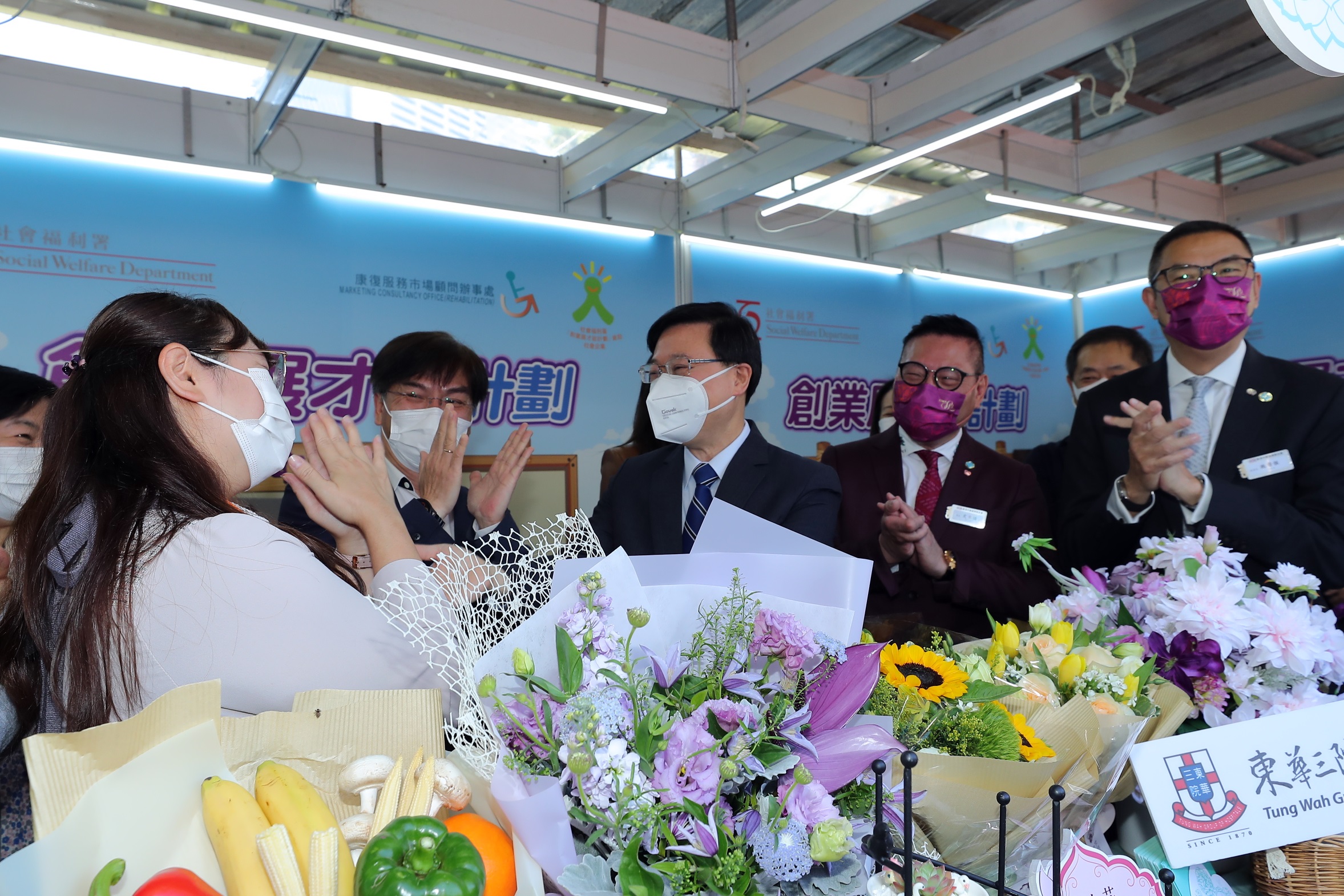 The CMA office-bearers accompanied Mr John Lee, Chief Executive of the HKSAR, to tour around different stalls at the HKBPE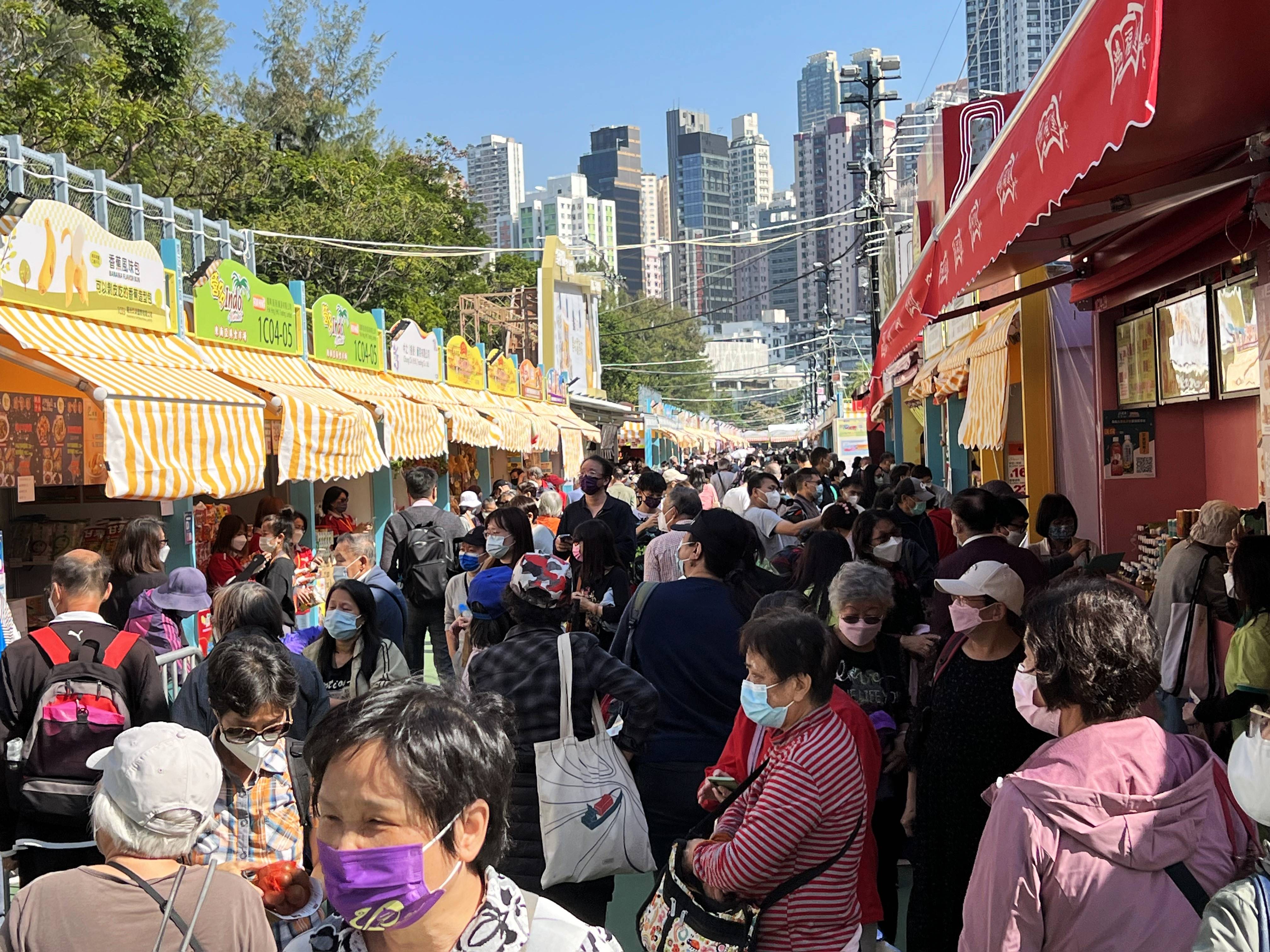 The 56th HKBPE begins today at the Victoria Park