52nd Hong Kong Brands and Products Expo Opens
The 52nd Hong Kong Brands and Products Expo - Get Ready for a hundred crazy deals and HK$4.4million lucky draw prizes

The city's biggest outdoor shopping extravaganza cum carnival – Hong Kong Brands and Products Expo (HKBPE) – is back again, offering big bargains, huge discounts and fun-filled entertainment programmes put together by the Chinese Manufacturers' Association of Hong Kong (CMA).
Running for 24 days from 16 December 2017 till 8 January 2018 at Victoria Park, Causeway Bay, the 52nd HKBPE includes 10 theme zones and 880 outdoor booths giving bumper offers, price markdowns, redemptions and promotions with lots of prizes to be won. The highly anticipated "anti-inflation promotional campaign" covers over 100 items rolling out in 3 phases, including "HK $1 dish washing machine", "HK $1 rice cooker", "HK $1 abalone and dried seafood gift parcel", "HK $1 electric toothbrush", "HK $1 coffee powders gift parcel", "HK $1 snacks gift parcel" etc. The most shocking deal for last year – "$8 per inch TV set" is also available again.
If savvy shoppers want to skip the queues and crowds, they can get those awesome deals in advance online and then collect the products onsite. From 7 to 13 December, the "Online HKBPE" will feature a number of daily amazing deals, including "HK $1 product" and "up to 90% discount items". There will be also a new promotional campaign namely "1.1 Shopping Festival" on 1 January 2018. People can enter for a chance to get "HK $1 gift parcel", "HK $1 product" or "HK $1,111 cash" from a lucky draw.
"The HKBPE is an absolute "wow" in every aspect and we have put together a line-up of magical fun and experience under one roof," said CMA Vice President cum Chairman of CMA Exhibition Services Limited Dr Tony Tai at the press conference today (6 December), "to cater for different ages and interests, there will be more than 40 free activities and performance shows. The biggest challenge of our visitors will be trying to choose from among so many different things to do on site."
10 contestants of Miss Exhibition Pageant were unveiled to the media at today's press conference. They will be competing for various awards over the next few weeks, while the grand coronation will take place on 8 January 2018 on the performance stage at the HKBPE. The expo is also jam-packed with an unprecedented variety of entertainment choices, including musical and dance performances, live radio programmes; not to mention a cooking demonstration by famous authentic Chinese chef Lee Ka Ding. He will also act as a judge at the "HKBPE Family Cooking Competition-Junior Star Chef Master Final" to be held on 23 December 2017.
Virtual reality (VR) and Augmented Reality (AR) are the hottest trends in the gaming world. A game booth will be set up inside the venue to offer plenty of fun, challenging, engaging yet educational VR and AR experiences that are suitable for both adults and kids. Additionally, an exhibition featuring winning images from the "The Photography Competition in Celebration of the 20th Anniversary of the Establishment of the HKSAR" will be held at the HKBPE. The photos not only serve as a display of remembrance, but also enable visitors to revisit the achievements and glorious moments of Hong Kong in the past 20 years.
Visitors can also stand a chance to win exciting lucky draw prizes worth a total of HK $4.4 million such as small electrical appliances, food and beverages gift vouchers, healthy food products.
Among all these astonishing elements, the event also cooperates with the two biggest electronic payment providers, "Alipay" and "Wechat Pay" for the very first time, offering a brand new shopping experience to the visitors. Customers can get exclusive shopping discounts or rebates on purchase with these electronic payment platforms.
"Hong Kong people love the HKBPE and we care about our community," said CMA President Dr Eddy Li, " the "Caring for the Community" promotes a closer community and brings happiness and care to those in need. This year the programme will allocate HK$4 million to subsidy various social initiatives. CMA will invite less privileged members from low income families to the event and each participated families will receive a HK$500 cash coupon for shopping at the HKBPE."
HKBPE opens from 11am to 10pm daily, except from 11am to 8pm on the last day, and admission tickets are HK$10 each (free admission for children under 1 meter in height, senior citizens over the age of 65, and persons with disabilities). For details, please visit the website: www.hkbpe.com.hk or stay tuned for the latest information on the event's official WeChat and Facebook.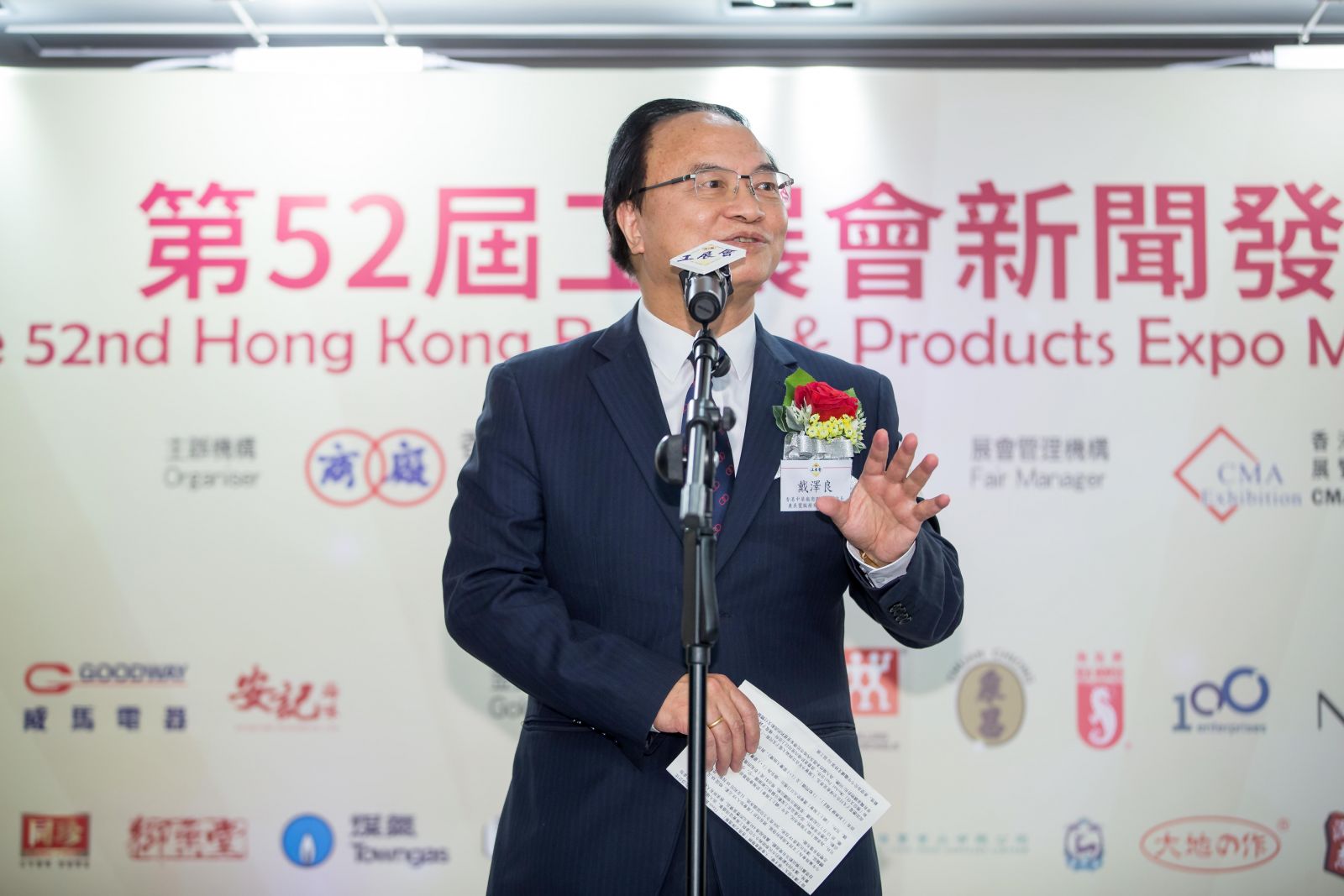 CMA Vice President cum Chairman of the CMA Exhibition Services Limited Dr Tony Tai introduced the entertainment and activities.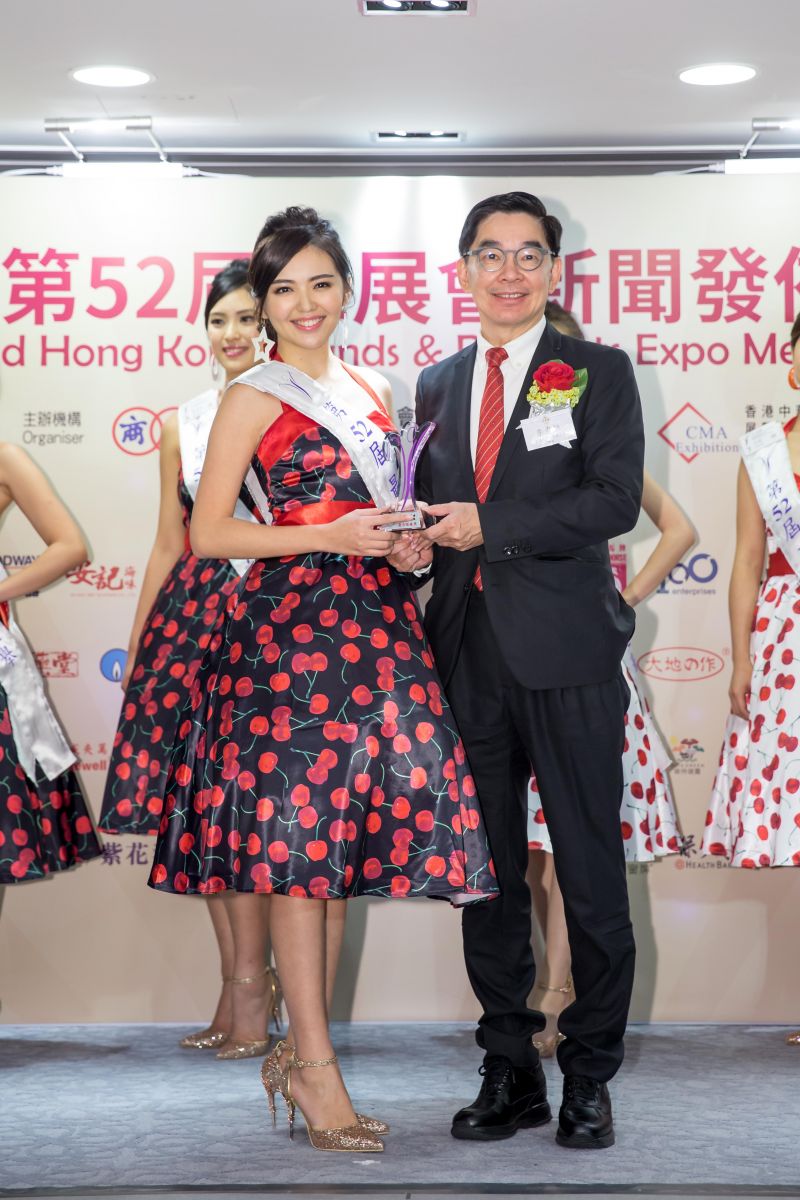 CMA President Dr Eddy Li (right) presented the first award "The Most Eye-catching" of the Miss Exhibition Pageant 2017 to Ms Leung Yee Ting, Chloe (left) who represents Sunrise Int'l. Corp. Ltd.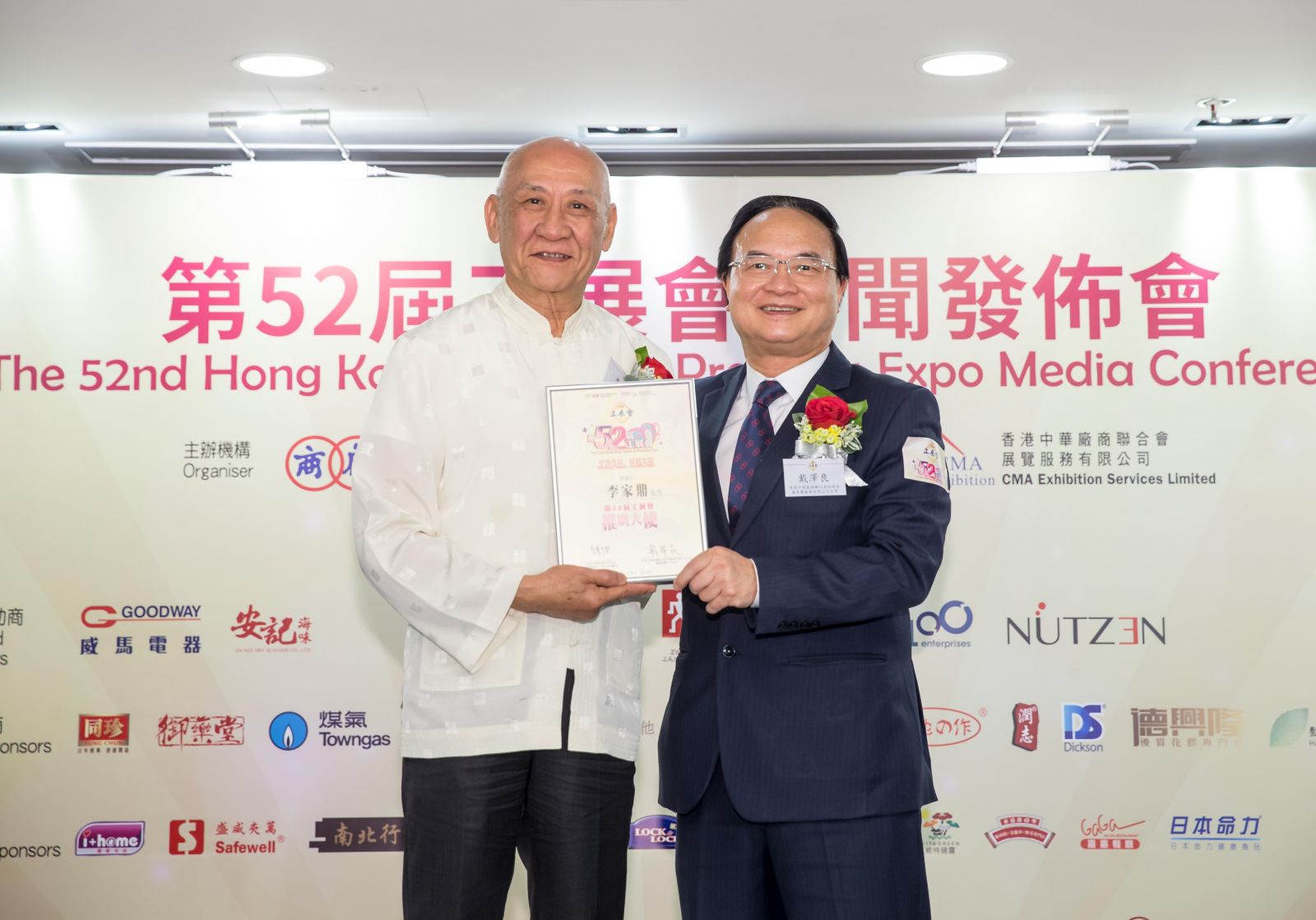 The Promotional Ambassador Lee Ka Ding will act as a judge at the "HKBPE Family Cooking Competition-Junior Star Chef Master Final" and have a cooking demonstration.

Guests and the ten contestants of Miss Exhibition Pageant 2017 posed for a photo at the press conference of HKBPE.
─ Ends ─

For enquiries:
Ms Alison Lee
General Manager, Corporate Communications
The Chinese Manufacturers' Association of Hong Kong
Tel:2542 8636 / 9168 5909
Fax:2815 7572
Email:alison@cma.org.hk
Ms Sylvia Fung
Executive Officer, Corporate Communications
The Chinese Manufacturers' Association of Hong Kong
Tel: 2542 8644/6538 8175
Fax: 2815 7572
Email: sylviafung@cma.org.hk